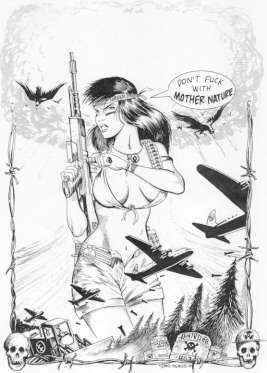 - click to enlarge -

Back to Lü
Back in 1989, before Linda Hamilton blew us away in Terminator 2, I commissioned the artwork on the left from now famed, but then unknown comic book artist Jimmy Palmiotti.

It wasn't till the mid-80's that I finally got around to printing a few on EcoSport organic cotton t-shirts, a now defunct brand, selling them mostly to friends and colleagues.

The art work didn't go down very well with the feminist women of Wetlands, which is where I had originally wanted the shirt for, so I ended up printing it on my own.

It wasn't till I saw this image of Jessica Rashae shot by Bryan Bentley on Model Mayhem, who kindly allowed me to reproduce it here, that I realized how close it got to my original vision, and how times have changed. There's still a fascinating movie to be made here, anyone?

While back then Earth First! Journal reproduced the illustration only to slight it, now finally, finally, the ecological movement is being marketed via pop culture. Look at Treehugger!

We need to embrace the green Maxim outlook! Since 1989, women in comic books and science fiction have become strong women, masculine women, ready to take on any challenge, and teenage boys dream of such women to take control of their lives.

We need more images like these, otherwise the whole planet is going to end up like the Three Gorges Dam in China.