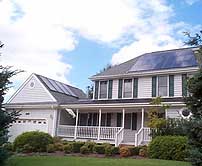 Your one stop shopping for all
your residential and commercial
PV needs in Fairfield County!
20 Years of experience!
We'll take good care of you,
and your roof, from start to finish
till your installation is complete.

If it doesn't look good,
we won't look good.
Style & Function!
ArkaFlux works with the best PV
companies and equipment,
installed by certified electricians
with years of experience.
Contact us now for a house call.
We'll show you on site what
your best PV options are.
203-227-2065