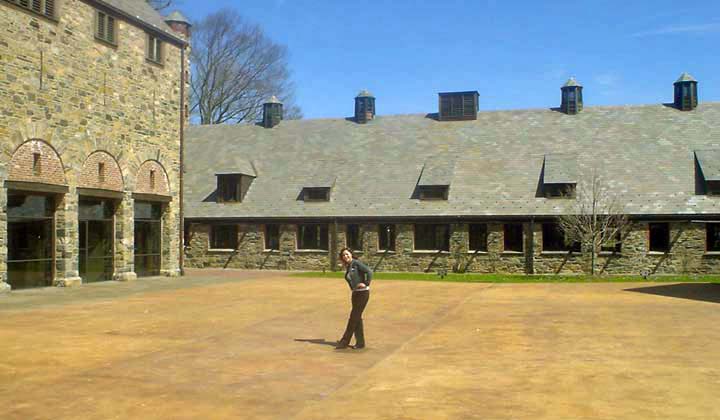 ---
April 10th 2006 - What's it all about Betcee? Well, it's about the girl, the car, the plant and the wardrobe. The minute I first saw Betcee's picture online, I knew she was the one who would pull the plug on this old nuke. There is something about her distant stare, her skin, her demure look that wraps you around her dreams. She's a new breed of Internet queen. Haute hippie chic. Betcee's made her way into our hearts posing nude for hundreds of amateur & semi-professional photographers, many of them rising stars, just like she is. Now this body of work, which is more akin to fine art than men magazine fare, speaks volume. Betcee doesn't have an agent or a manager, and doesn't want one. She handles all her own affairs from a smartphone. She turned down the Ford modeling agency much to their amazement. She doesn't want to be a stick figure. But that's not stopping the offers from pouring in. She's already a celebrity. Betcee is featured in the June 2006 issue of Maxim and working on a feature film in Connecticut. She's doing all this without losing her charm, her cool, her sensibility or her professionalism. She works non-stop for months on end, then takes a break visiting far away places like Thailand to bungie jump and relax.

---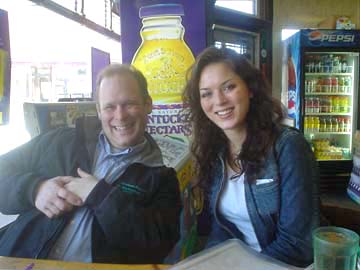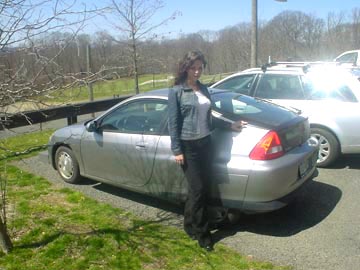 ---
Before Betcee got into modeling full time, she kitchen prep for famous New Orleans chef Emeril Lagasse. Her dad installs solar systems and her mom is a natural healer, both in Minnesota. So on our way to Peekskill and Indian Point, we took a short detour to visit the Stone Barns Center for Food and Agriculture, David Rockefeller's horse stable in Tarrytown, NY recently transformed into sustainable farm experiment. Betcee met Boris, the 800 pound hog who has become the farm's mascot. We also found an Insight in the parking lot, the younger sibling of the Civic Hybrid we had on loan from the Honda media department, same model as the one currently on tour with the Black Eye Peas. In Peekskill we met up with Seth Leitman of Electric Transportation Solutions at Sue's Hudson Cafe who had just sold two electric golf cars to Kenneth Cole, the foot wear designer most recognized for his socially poignant print ads. Turned out Indian Point wasn't exactly where I remembered it to be, so we drove off looking for the best place to shoot. Check The Environmentals to read up on the journey.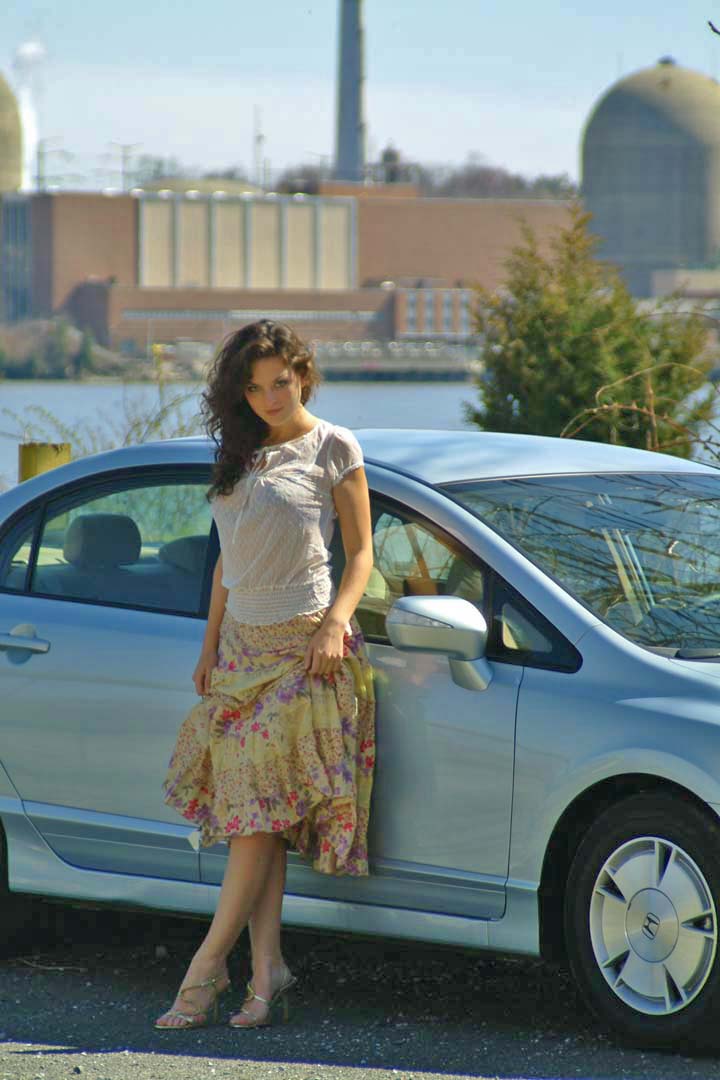 ---
The old plant has a long history and a litany of problems, and yet it keeps on ticking, as New Yorkers, entrenched in the irrational fear of losing their primary source of electricity, refuse to give it up. Despite daily reports of leaks and lies and accidents, potentially threatening the entire ecology of not only the Hudson river, but the entire region... Despite incessant efforts by the local communities, and far reaching support from neighboring states... it's been a stalemate for decades between anti-nuclear activists and the nuclear power industry, now threatening to build modern versions to replace hundreds of aging plants around the globe. Yet Indian Point remains the most highly visible and controversial nuclear power plant on the planet, because of its close proximity to Manhattan. The "what if?" factor looms large on the horizon... How can the people of Peekskill sleep at night, I don't readily grasp. I know I could never be comfortable living so close to a plant which is as old as I am, built in 1955.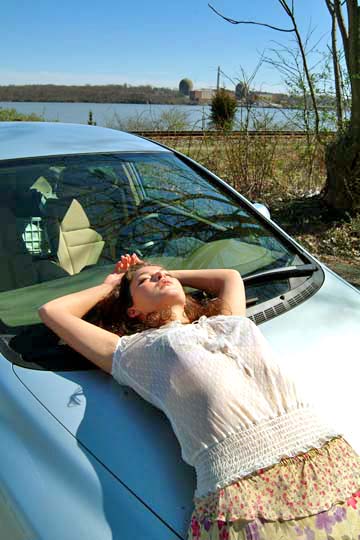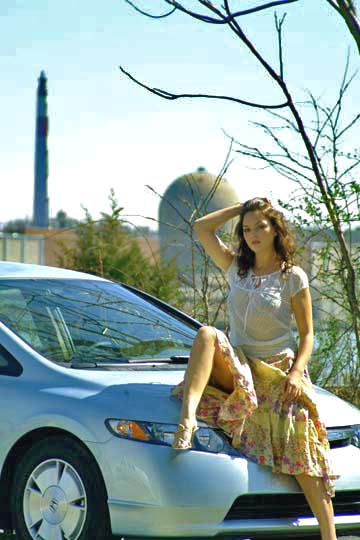 ---
To make matters worse, on my return from our trip, it just so happens I run into a friend the next day, who upon hearing of my visit, reveals to me that he had once worked as a welder for Underwater Construction in Essex, CT, and that back in 1990, thousands of gallons of highly radioactive fuel pool water leaked into the Hudson river for a year because the plant refused to repair an inconel stainless steel pipe corroded by microbes. Then last August the news hit. The plant had again been leaking Strontium-90, this time destroying Peekskill's groundwater. In other words, enough is enough! On March 30th 2006, the Albany Times Union quoted Democratic candidate for governor Eliot Spitzer calling for a bigger, tougher environmental policy that would include closing the Indian Point nuclear plant.
---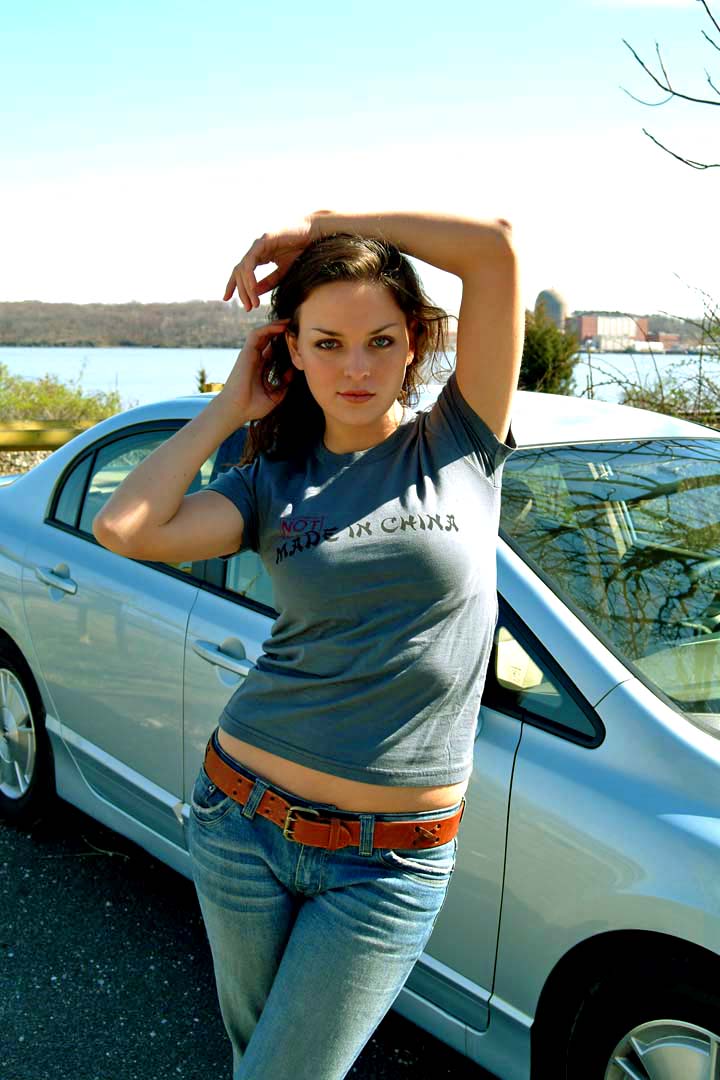 ---
---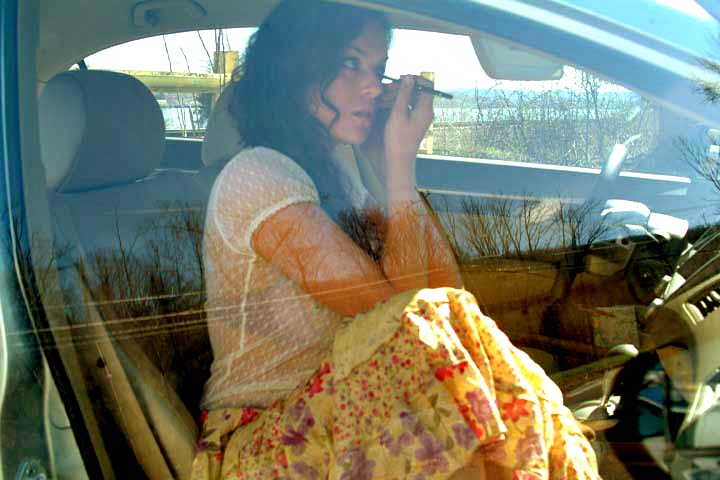 ---
Quite simply, the heart and soul of the anti-nuclear community in Peekskill is the Bruised Apple, Used & Rare Books, owned by Scott Sailor and Debra Adamsons. It's been described as having a solid science fiction section and an "engrossingly creepy bathroom" which had I known, will check out next time around. Betcee is a voracious reader, and knows how to cast a spell. She's wearing one of the many shirts and tank-tops bearing the store logo over the NOT Made in China organic cotton t-shirt designed by our friends at Green Label in Virginia.
---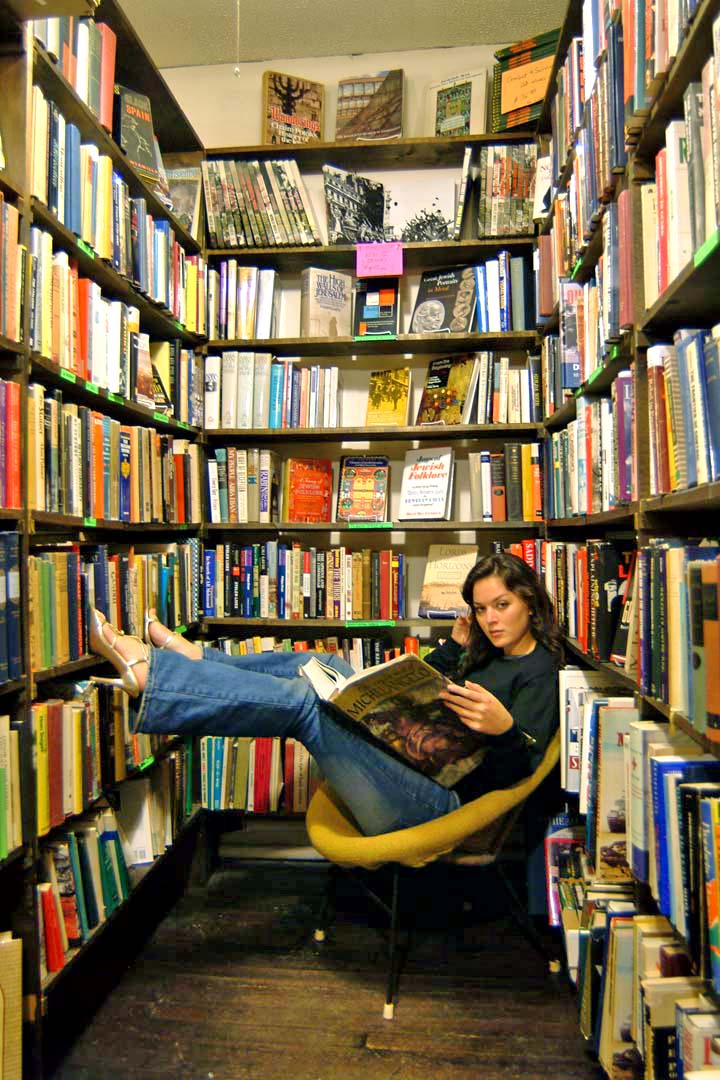 ---
---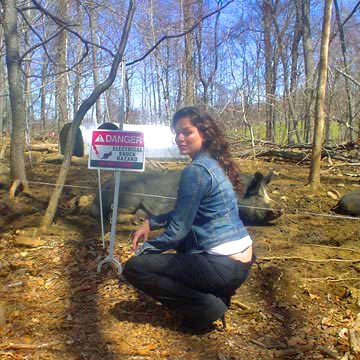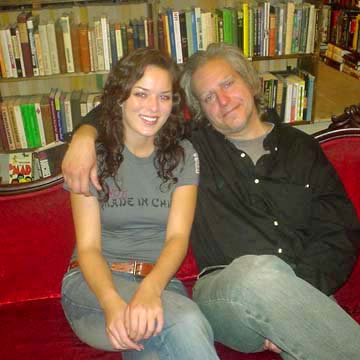 ---
OK, so I'm smitten, I won't deny... It's going to take me weeks to recover. In the meantime, if you actually want to read about the car, click here, and when I can string a whole sentence together again, you'll find some stuff there. Now how am I going to explain this to the kind folks at Honda media? Yes, we know, it's a hybrid, you don't have to plug it in! Well, you see, that's the Bettah question! A few dozen windmills along the river's edge, where this old plant used to be, and a few of Dr. Sadoway's Slimcell batteries, which have been in military-industrial complex licensing limbo since 1995 (?!?) we'd be back to the future, a real future, a future where Blinky the Three-Eyed Fish is just a cartoon character on the Simpsons!
© April 11th, 2006
---