More Rock The Reactors Affiliated or Attended Events:
Cell-nique's Evening of Sacred Sounds and Peaceful Intentions
Was held FRIDAY OCTOBER 27TH 2006 7 P.M. 11 P.M.
SPIRIT 530 W 27th NYC $20
Net proceeds benefit PEACE X PEACE
John Hall Benefit :: Bonnie Raitt & The Mammals
Was held WEDNESDAY OCTOBER 18TH 2006 7:30PM
Tarrytown Music Hall - Press Release
Clearwater Sloop Indian Point Sail Held Sunday, August 27, 2006 Verplanck, NY
View the Vlog :: WMV (PDF Invitation)
Helen Caldicott - Read report - Held Sunday September 17, 2006 2:30 pm
Unitarian Church, White Plains, NY
Riverkeeper Waterfest Day! With Robert Kennedy Jr. Held SUNDAY OCT 8TH 2006 1PM
Big Apple Splash-Hudson River Float - Pier 96 North Cove Marina NYC
Gandalf Murphy and The Slambovian Circus of Dreams
Held SATURDAY OCTOBER 7TH 2006 9PM Acoustic Cafe, Bridgeport, CT
Fairfield County, Green Ham in a Nuke Sandwich!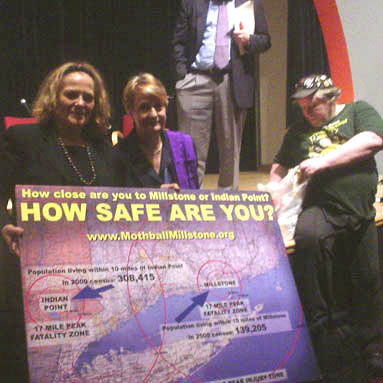 Nancy Burton & Helen Caldicott
Pro-IP Shutdown Candidates were...