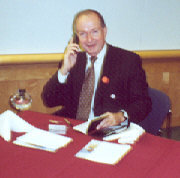 Remy C.
- So how is the Hypercar doing?
T.Crumm
- It's doing fine. We are on schedule, we're on budget.
RC
- What company is actually going to develop it? What company in Detroit is involved with it now?
TC
- None of them. We're doing it ourselves. We are using the expertise of an engineering house in England.
RC
- Which is?
TC
- I can't say yet. But that house has a virtual reality cave, crash simulation capability, ability to build the clay models, a pretty good group of engineers for conventional steel cars. We're working with them, explaining what Amory has developed over the past decade in terms of what should be feasible and we're turning that into actual specifications for a vehicle.
(Note: The Wall St. Journal article revealed a month later on Jan 9th that the company is TWR Group Ltd, Leafield Technical Centre, Witney, Oxfordshire
OX8 5PS, Tel: 011-44-1993-871000. Contact: ex-Skunkworks David Taggart & Craig Wilson. BP Amoco has invested $500,000 in the project. Green Mountain Energy chairman Sam Wyly: $1 million. Swiss investment fund Terra Trust has pledged $1.5 million.)
RC
- Where do you think the plant with be? Do you plan to do one in the US? Here or abroad?
TC
- That's still up in the air... We're getting a little bit of enticement from both Europe and the US. We don't have to decide for another year and a half.
RC
- It's a year and a half away from the first prototype?
TC
- Beginning a site, yes. We do have a concept car, that will be in the RMI Journal.
RC
- Built, ready to show?
TC
- We're already showing it to private investors to get them excited.
RC
- Is there going to be a public unveiling of the prototype?
TC
- I don't think so. I don't think there's a need to at this point. Just the private showings for now. Perhaps in a year from now.
RC
- Is the prototype functioning?
TC
- No. It's a show car. It's not a working prototype.
RC
- A life size mule?
TC
- Yes. The subsystems that go into it is what we're working on now. You can use a conventional car and put in a subsystem and test it, and drive it. That's what you do with a mule.
RC
- That car is at Rocky Mountain Institute?
TC
- No. It's currently in England. It will be shipped here tail end of December.
RC
- Made in England?
TC
- Right.
RC
- Do you know the organization NEDRA?
TC
- No.
RC
- The National Electric Drag Racing Association. Some of their members would like to participate in the development of the Hypercar.
TC
- I would certainly be glad to talk to them. We're going to be in a position where we are going to need some people very shortly. Might be a good source to draw from.
RC
- I'll send you a back file of articles about them.
TC
- I'll be glad to look at it. I've often wondered if there was a drag racing group. I was thinking about that about three or four months ago...
RC
- The publisher of Electrifying Times has a world record for electric motorcycles.
TC
- In drag racing you can carry enough batteries. But for a vehicle like ours you would need a fuel cell.
RC
- Are you familiar with Evercel in Connecticut?
TC
-No.
RC
- They are an offshoot of Energy Research Corporation which has been making military fuel cells for many years. Their stock last year was at $16. It's now at $160, been split three times. They used to make the nickel components for Ovonics. Evercel now makes a very commercially attractive Nickel-Zinc battery. Their R&D is in Danbury. Their plant is near Shanghai.
TC
- When I get back I'll ask my guys about Nickel-Zinc. Absolutely.
RC
- There's a lot of work to be done and it's all taking too long.
TC
- We're trying to hurry it up.
RC
- How many Hypercar reports did you actually sell? You were selling them for $17.000.
TC
- Before my time. I think more than 30. That was just a feasibility study to say: "Was the academic work possible?" We're now making an evolution from what was in those papers and what we've built now is the concept car that defines not just the academic work but what's in the market and what will be available.
RC
- Is the study available to the general public?
TC
- We have an obligation to the people who paid for the report to still restrict it to them.
RC
- So you're not giving it away?
TC
- No. You can ask Amory about that. It's really more RMI than Hypercar.
RC
- That would be the first question from the folks at NEDRA: "Let's read the report, see how much they know and then let's try to see if we can fill in the blanks."
TC
- I'll be anxious to read about NEDRA. Sounds very interesting.
RC
- I'll put you in touch with them. Thanks for your time.
(As of April 2001, Thom is no longer with Hypercar. Stay tuned to this page for more details as I find them. Remy C.)