Photo: Starre Vartan - If you get tired of Remy's silly mug, mouse over it for a chemistry lesson.
(Website best viewed text size medium)
Check out Newer Articles!
Check out older articles:
2006 Archives
...for more Great Reviews
Organic Booze
Casa Noble Tequila
Rain Vodka
Crop Harvest Earth Vodka
Cuca Fresca
Purus
VeeV
TRU
360 Vodka
Sunshine Vodka
Leblun
Prairie Organic Vodka
Rivers Royal Grenadian Organic Rum
Papagayo Organic Spiced Rum
Vinceremos Organic Spirits
Matraga Organic White Rum
Juniper Green Organic London Dry Gin
Utkins UK5 Organic Vodka
Orange V Vodka
Dà Mhìle Organic Blended Whisky
Liquid Ice Organic Vodka
Vodka 14
Rain Vodka (organic grain)
Highland Harvest Organic Scotch Whisky
Joto Sake
Sunshine Organic Vodka
Square One Vodka
*(not organic, but still cool)
VeeV
360 Vodka
3 Vodka (made from soy)
ZYGO Energy Vodka
Kensington Gin (?)
S Guaro (?)
Spudka
Hideous
Jaguar Vodka
Shot Pak
Organic Booze Distributors
& Trade Associations
American Distilling Institute
The Online Distillery Network
Distilled Resources Inc.
Grain Millers
Organic Spirit Company
Maison Jomere
Ethanol Fuel Activism
Alcoholics Unanimous
This website is NOT approved by
MADD
(Mothers Against Drunk Driving)
But it is a card carrying member of:
AAAAA
Alcoholics Anonymous
American Automobile Association
Wetlands Preserved
Ziegfeld Premiere


CocktailOrganico
Launch Party Pictures!
April 7th 2006 - HulaHanks
Stamford, CT
Indoor Village
April 14th 2006
- pictures -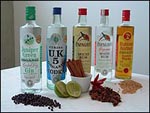 I'm working on a comments function!
This is a low-tech venture...
email me, it's OK
I won't byte!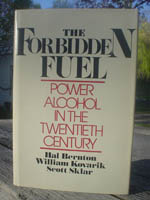 Technically, this isn't about hard spirits, but since the model gracing the cover of E The Environmental Magazine this issue, illustrates a story on organic wines, why would I deny ourselves the opportunity to blog about the muse for our campaign to shut down Indian Point, the old nuke on the Hudson river in New York. Betcee May Lindstrom is represented by the NEXT modeling agency in LA. Read about how the cover was produced here.
Posted by RemyC - Nov 1st 2006



From: Hugg (posted by linton)
"Welcome to the Twilight Zone! Amyris Biotechnologies got funding for ethanol research... sooooo? They were a "start-up whose focus until recently has been using microbes to produce an anti-malarial drug." The YouTube VIDEO is Kiss's Gene Simmons talking about NASCAR and Ethanol. Someone pinch me." Read full article on CNET and official news release.
Posted by RemyC - Oct 13nd 2006



Lordy! Nothing new here in nearly two months. We needed something really special to bring this blog out of its complacency. Well here it is: the first high profile organic fragrance. That's right folks, organic perfume... Certified Organic Alcohol, and too boot, it smells really nice... and I don't mean like some overpriced dime store cosmetic counter test sample. I mean subtle, fresh and sweet. It comes in three flavors: Labrinto, Presento and Sicuro. 1.6 oz bottles; $39.99. All Greenmen will want their green women wearing it. Some may even wear it themselves. Nature's Gate in Chatsworth, CA broke ground here for a whole new organic ethanol crusade. To your blogs my little green army. Let's gear up the PR machine again. Other organic fragrances include: Terranova; Rich Hippie; Aubrey Organics; Hood River & Ecco-Bella. (Click pix for blow-up.)
Posted by RemyC - Aug 31st 2006



Since the Pömed party (see below), Earth has become the first nightclub restaurant in Manhattan to serve organic spirits on a regular basis. In fact, owner Hemant Phul would like all organic booze distributors to stop by his club and discuss business. Earth is where the Bollywood stars go when they come to New York. Earth also hosts fundraisers and benefits for many worthwhile causes. Located in between The Park and IIKH, the entire block is turning into one big green Haight Asbury revival!
Posted by RemyC - July 1st 2006



Cocktail Organico is back! Back with a bang! Lü had to top ICInyc with something amazing. Thanks to the incredible networking of Danelle Brown at Verte, we had this stellar event at this beautiful new club called Earth on June 20th. Pömed assembled "le tout" sustainable New York. Maison Jomere was a no show! They never brought the organic booze they promised. Nobody from ELLE actually showed up either. But boy did they miss a wonderful affair. Just check out the PARTY PICTURES. If after that HachetteFilipacchi doesn't greenlight the first issue Lü, I will do like the infamous cover of National Lampoon: "If you don't buy this magazine, we'll shoot this dog!"
Posted by RemyC - June 22th 2006 - updated



I can't wait for this. Folks in Chicago have been so supportive of TheBox66 I'm about to burst. On May 12th, the Funky Buddha Lounge is throwing Electrifying Times and I this great kick-off bash for our trip down Route 66 selling rapid chargers. Carl Boyd of Normal Design tells me they have the "nation's largest selection of organic liquor, beer, wine, tea and juices". As soon as I know the brands, I'll make an update. The Car Project belongs to Jonathan Gitelson. Click the headline to enlarge the girls.
Posted by RemyC - April 30th 2006



Asia is turning to poisonous jatropha fruit for fuel. Says so in the Seattle Post. "We have found that we can produce biodiesel from it. If we can keep the price down, the future looks bright," says R.K. Malhotra, who oversees the Indian Oil Corp.'s research center that is running tests on the oil. Seeds from the jatropha fruit are crushed to produce a yellowish oil that is refined and then mixed with diesel. Thailand's King Bhumibol Adulyadej has a car that runs on palm oil and has been touting the substitute fuel to his nation for more than 20 years. Inhabitants of the Pondichery Community Sri Aurobindo founded Auroville are involved in the R&D.
Posted by RemyC - April 30th 2006



Not yet a labeled organic, Jaguar Vodka is on the right track, with another agenda. 2,500,000 square feet of the largest Jaguar Preserve in Central America has been already been preserved by Prestige Imports even before the first bottle sold. The creators of the now discontinued Brazilian made Amazon Rainforest Vodka (a few bottles are left, hurry!) have been quietly working on this new vodka bottled in Barbados that is also made from double distilled from pure sugarcane, which imparts a unique sweet taste and ultra smooth finish. "One sip and you'll be ruined for grain or potato-based vodka swill." Contact Tom Cleaver at CJCK Business INC. 22201 Harper Ave, St. Clair Shores, MI 48080 or call 586-778-2143. Thanks to Brian Bugaiski & E magazine for the tip. (available July 06)
Posted by RemyC - April 25th 2006



Danelle Brown writes on eco-chick: "The state of New York along with the State University of New York (SUNY) are currently investing money and research into technology which would produce corn-free ethanol primarily from wood chips from willow trees. Currently Governor Pataki is backing the conversion of the old Miller Brewing Plant (which used to provide college students' beer), into a plant that will now produce non-corn based ethanol. As written in the NYTimes, the current engineering director is attempting to convert the 420 acre plant into what would be the Northeast's largest Ethanol production plant."
Posted by RemyC - April 24th 2006



Linton writes on hugg: "First Branson, then Doerr, now Gates? Bill Gates, the world's wealthiest human, is investing $84 million in Pacific Ethanol. The Daily Reckoning also talks about investments in ethanol from Sun and Google. The picture is Gates' mugshot from 1977. He was arrested for a traffic violation." Put Clooney and Gates together, and you get ethanol plug-in hybrids... "training wheels for the masses" as John Wayland put it in Make magazine, till we finally get our hands on Dr. Sadoway's Slimcell, and well, the heck with liquid fuels... We got a 100% pure EV that will go 600 miles on one charge!
Posted by RemyC - April 20th 2006



John Passacantando Director, Greenpeace USA wrote: "Earthbeat Radio does for environmental coverage on the airwaves what Grist Magazine does for the environment in the cyber world." Yesterday, Mike Tidwell, host of Earthbeat Radio had me on his show to talk about organic booze. Earthbeat airs primarily in the Washington DC area, but all their audio clips are archived on their website. Mike wanted to talk about the rise of these libations and find out whether or not they're really healthier. Listen to the conversation here.
Posted by RemyC - April19th 2006



Lascelles Linton writes on Hugg: "The Saab Aero X runs on 100 percent ethanol fuel. But don't think that this is a sissy-fied eco-friendly car; the Aero X sports twin turbo 2.8 liter V6 that makes 400 horsepower at the flywheel. Though it hasn't been officially tested, Saab is claiming that the Aero X can go from zero to sixty in 4.9 seconds. Oh yeah, the Aero X has an estimated top speed of 155 miles per hour. Not bad for a "green car", eh?"
Posted by RemyC - April13th 2006



Dunlop MSA British Touring Car Championship powered by bio-ethanol made its debut in 2005 on the Croft Circuit in North Yorkshire in the UK. Fiona Leggate took to the track in a Vauxhall Astra Coupe converted to run on bio-ethanol by renowned specialist Triple Eight and competition engine tuner Sodemo. She is the 25-year-old daughter of a farmer from Boston, Lincolnshire. The idea to run a bio-ethanol car in the BTCC came from EEMS (Energy Efficient Motorsport), a government-funded initiative that works with the Motorsport Industry Association. Fiona uses a 70% petrol, 30% bio-ethanol. 100% doesn't seem achievable right now (it affects performance), but she swears there was no difference in performance between her car on a 70/30 split and the others running fully on petrol. The mixture, produced by Carlos Fuels in France, is delivered to the circuit in cans just like everyone else's. When she's not racing cars she's a mother of two and manages a "10-pin bowling alley." Thanks to Hugg for the head's up.
Posted by RemyC - April13th 2006



OK, sorry, been BZ shutting down Indian Point. Here's a week old Treehugger post I wanted to mirror. Think of it as a giant Sterno can! EcoSmart Fire has been using what they call Ecohol (a fancy new word for denatured ethanol) to light their environmentally friendly designer fireplaces. The only reason to denature ethanol is to make it unsafe to drink, which is the epitome of hypocrisy. Start out with a fuel that is safe, clean, easy to produce from biological sources (only Satan insists it come from GM sponsored Monsanto GMO corn) mix it with methyl poison so alcoholics won't drink it in a pinch. Wow! Thanks USDA, ATF & DEA. Still keeping industrial hemp from US farmers cause you can't tell them seeds apart I see!
Posted by RemyC - April13th 2006



Since 1997, Henry Sidel has worked as the General Manager of the Brooklyn Brewery and Director of International Marketing for Belvedere and Chopin Vodkas. Henry's passion for saké started in 2000, when his wife first took him to the Sakagura restaurant in New York. Joto Saké LLC officially launched in New York with Frederick Wildman and Sons as its distributor in August, 2005. Sadly, because the Japanese organic certification JAS (Japanese Agricultural Standard of Organic Agricultural Products) is not yet recognized by the USDA, there's been some import delay. Henry has government label and product approval. It will say "High Ecological Standard" on the bottle! Thanks to Organic Inc. author Samuel Fromartz, and his PR person Michael Straus for the tip.
Posted by RemyC - April 4th 2006



Tyler's Blog reports that according to the Canadian Renewable Fuels Association Canada is lagging behind the US and Brazil in ethanol production. You can download the whole PDF report. The Canadian Auto Workers Union is the one organization most responsible for the legalization of industrial hemp in Canada. They should simply follow through and advocate the use of industrial hemp for the production of ethanol fuel, rather than perpetuate the mistake of using Monsanto GMO corn, which we all know is wrecking havoc amongst Canadian farmers."
Posted by RemyC - April 3st 2006


Carl Boyd of Normal Studio in Chicago writes: "My stepfather as a kid, used to run 'moonshine' during Prohibition, but lost his job when he got caught stealing it to put in his Model T. As a teenager in rural Ohio during Prohibition, he owned a jalopy Model-T, and to pay for it's upkeep, got a job 'running shine' (delivering illegally-made grain alcohol). One time, he ran out of gas on a long country road. He couldn't risk leaving the car with a trunk load of moonshine, so he opened a bottle and poured it into the tank (early cars could run on various forms of alcohol) and finished his delivery. The high-octane booze made his heap run so well, he started sneaking some into the tank every chance he got. That was, till the boss caught him, and gave him the sack. Then he had to go back to crummy old petrol."
Posted by RemyC - April 3st 2006



Ethanol hybrids are coming of age and soon to be all the rage! If we are to believe Felix Kramer and Joe Romm, they are sure to set the next Green Car Red Carpet trend if a major automaker like Saab decides to go for it! You can follow all the twists and turns of this not-so-novel idea, one the good oil dino boys in Motor City would rather you quickly forgot about, by reading the amazing commentary thread on the HybridCARS blog which is sure to test the metal at Toyota. Also check out the cute little cartoon on the Bettah website.
Posted by RemyC - April 1st 2006



These martini mixes made from organic fruit juices and evaporated cane juice appeared on treehugger yesterday via Green LA Girl. Modmix is available in West Hollywood and Laguna Beach, yet has been getting buzz since July 2005 ?!? Which begs the question... do they want to stay a local trendy staple, or find their way to Manhattan and beyond? Modmix founder Gretchen Nix said at the Natural Products Expo West: "Look out for yummy mixer options at your favorite hip, urban watering hole." Yep... Martini mix to the stars... wonder if the secret location below will have it at the bar... hmm... Should we start a Gawker Stalker for fine libations? Not if George Clooney has anything to do with it!
Posted by RemyC - April 1st 2006